ABOUT NEWCASTLE MUSIC THERAPY
About Newcastle Music Therapy
Newcastle Music Therapy started as a mobile service almost twenty years ago when Susan started to take on private clients in the Newcastle and Lake Macquarie area. Originally as InSync Music Therapy, Susan grew her client base and took on programs such as Sing And Grow (for parents and toddlers) and Snug (a respite camp for the families of children with rare disorders).
As the business grew clients were increasingly asking for a space where they could express themselves freely. Susan also felt the need to bring more music therapists together where their collective skills and gifts could benefit her clients.
Since then, Newcastle Music Therapy has expanded to include more services – art therapy and drum lessons.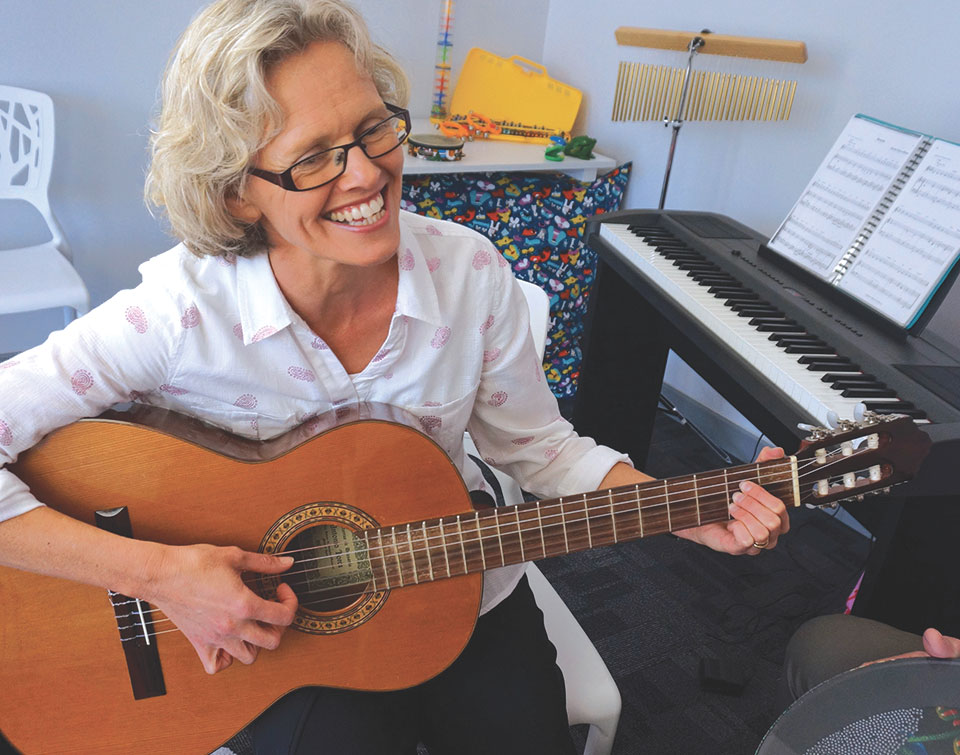 Our story really began when a young music student from the Newcastle Conservatorium visited the Mater Hospital Hospice and played for patients in the end stages of their lives. There she met a music therapist who introduced her to the concept of music therapy and how music can be used to help people in many ways.
This young music student already knew about the power of music in her own life and quickly connected with the idea that music could be used in a therapeutic way to change the lives of others. It seemed the perfect combination – using music, which she loved, to work with people and make a difference in their lives, which she also loved.
From there Susan Ashley-Brown embarked on a journey of study and deepening knowledge of music therapy. After graduating from her Bachelor of Music degree at Newcastle University, she completed a Postgraduate Diploma in Music Therapy at the University of Technology, Sydney, and became a Registered Music Therapist with the Australian Music Therapy Association.
This journey has taken her into aged care facilities, children's hospitals, working with people with disabilities and mental health issues, working with families, and into people's homes and lives. Susan was the first Music Therapist employed at the John Hunter Children's Hospital, working in oncology.
In 2018 Susan opened the new practice space in Warners Bay and is excited about offering both individual and group music therapy sessions for many different people. Music tuition was added to the Newcastle Music Therapy services in 2019, and in 2020 Susan added Registered Art Therapist Katishe Grudnoff to her therapy team. In 2021, Susan expanded her practice space to add more therapy rooms, and welcomed two new music therapists and one new art therapist to the team.
Putting it simply – to change lives through music and art!
We aim to provide accessible music therapy and art therapy programs for people of all ages and abilities.
We love to talk about music therapy and art therapy and share our knowledge. We are advocators for the benefits of music therapy and endeavour to educate the community about music therapy and art therapy.
To bring joy into people's lives, to create meaningful connections between people and to help people know their worth and reach their potential – through music and art.
Our Address
16/363 Hillsborough Road
Warners Bay NSW 2282